Our Vibe, Vision & Values
Welcoming to all is how we roll.
MISSION
Savannah Yoga offers an inspiring, uplifting and accepting environment for humans to connect with self, spirit and community on and off the mat.
COMMUNITY
We are strongly connected to our community and the communities well-being as a whole, this includes: BIPOC, LGBTQ+.
POSITIVITY
We strive to offer an environment that is positive and uplifting for all students and staff.
STUDENT COMMITMENT
We develop relationships with students that make a positive difference in our student's lives.
INTEGRITY
We uphold the highest standards of integrity in all of our actions.
TEAMWORK
We work, across boundaries, to meet the needs of our staff and students to make sure they and the center thrive.
Born out of a love for service and transformation, we are a community-oriented, traveler friendly yoga center and lifestyle boutique. With a schedule of 20+ classes a week, world-class yoga teacher training program and world renowned guest teachers through the year, we provide a place for everybody.
Savannah Yoga Center serves the local community as well as an ever growing community of college students and travels. Our yoga reaches far and wide, from the graduates of our yoga teacher training programs since 2008, SYC is represented in 7 countries and counting.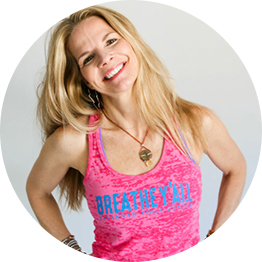 Greetings from our Founder
Hi, I'm Kelley Boyd!
I'm so honored to share the life-enhancing practice of yoga with you. Whether you're just starting out in yoga or have been practicing it for years, you'll find plenty of inspiring classes and workshops at Savannah Yoga Center. With email and social media making up a lot of our daily communication, many of us feel disconnected and isolated. Having a sense of community is important to our well-being. Savannah Yoga Center is your place to hang out and recharge. Welcome!
P.S. I'm a native Savannahian, current member of the Savannah Metropolitan Rotary Club, past board member of the Savannah Downtown Business Association and the Greater Savannah Sports Council-Savannah Area Chamber of Commerce. So if you're new to the area and could use a few tips about life in Savannah, don't hesitate to ask.