MariAnna J. O'Ree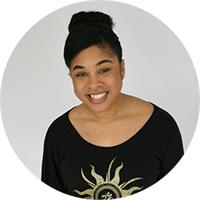 MariAnna began practicing yoga as a means to control the symptoms of chronic tension headaches. The more MariAnna practiced yoga, the more she was able to integrate yoga principles into her everyday life and carry the peace of yoga off of her mat. Realizing the great benefit of yoga to her mental and physical health, MariAnna became eager to share the benefits of yoga with others, and she completed a 200 hour therapeutics based teacher training program with The Yoga Room in Round Rock, TX. Her goal as a teacher is make yoga accessible for every body and improve the health of communities one yoga mat at a time. In addition to teaching, MariAnna works in public health as a project manager and holds a Master of Public Health degree in Community Health with a concentration in Health Disparities. In her free time, she enjoys running, traveling, and spending time with family and friends.
MariAnna J. O'Ree instructs the following:
The use of props and bolsters in this class help to fully relax in physically supported positions while stretching and opening the body. The emphasis is on release of muscle tension and increase of flexibility rather than on development of strength and aerobic capacity. This class helps to reduce the effects of chronic physical, mental and emotional stress on the body by inducing a deep relaxation, allowing the parasympathetic nervous system to work properly. Positions can be varied according to the individual's flexibility and modifications are readily made for individual differences.




This class is suitable for all levels, experienced to someone who has never taken a yoga class before. Through gentle, relaxing movements and ending with deeply restoring poses you will discover how to free yourself of habits that are interfering with your optimum self. Students report reduced stress, improved breathing, greater range of motion, and enhanced vitality. Many find relief from chronic pain or limitations resulting from injuries or illness. With repetition, as gentle yoga improves how you move, you will also see how it affects how you move through life.