Carolyn Prusa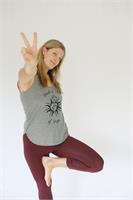 Carolyn met yoga in college and is on the brink of celebrating their 20th anniversary. Cheers! She taught in Boston, Charlotte, and Greensboro before moving to Savannah. She found SYC as a student in Anne's prenatal class and started teaching at the studio in June of this year. In her classes, Carolyn emphasizes bringing mindfulness to alignment in poses and transitions. Her main goal is to help students slow down and giggle more, and she freaking adores beginners. When she is not yoga-ing, she is writing, reading, chasing -- literally, running -- after her boys, Miles and Theo, and thinking about tacos and/or Beyoncé.
Carolyn Prusa instructs the following:
This class blends alignment principles within fluid sequences of yoga postures, and there is a strong focus on moving with the breath. Within the fluid sequences of yoga poses, there are moments where poses are held to deepen the experience and explore optimal body alignment.




The postures in this class are mindfully sequenced with the breath to build heat and strength with a slower pace, followed by longer holds and active stretches to encourage release tension in the body making the class ideal for athletes and still accessible to all levels, even the very beginner.




Yin yoga targets the connective tissues (joints, ligaments, bones) of the body, instead of the muscles that we focus on in other (yang) styles of yoga and exercise.

Yoga poses targeting the hips, pelvis and lower spine while relaxing the muscles are held for 3-6 minutes to achieve greater range of motion in joints and feel a renewed sense of energy.

Yin is also the perfect compliment to an active/vigorous lifestyle (i.e. running, crossfit, cycling, power yoga, etc)!

There are always modifications offered in each posture to make sure you feel comfortable, yet challenged.