Tina Nelson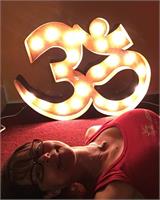 Tina Nelson instructs the following:
This HOT 60 minute class (85+ degrees) is based on the Baptiste Power Vinyasa sequence. The is a vigorous and challenging practice that emphasizes increasing strength, balance and flexibility. This is a accessible to all.




This class starts with slow floor warm ups building up to Classic Sun Salutations that create heat in the body. After moving through the set series of standing postures of Sun Salutations you'll move back down to the floor for cool downs and a yummy deep relaxation. A great class to help you feel energized and motivated throughout the day.




The postures in this class are mindfully sequenced with the breath to build heat and strength with a slower pace, followed by longer holds and active stretches to encourage release tension in the body making the class ideal for athletes and still accessible to all levels, even the very beginner.