Stori Springman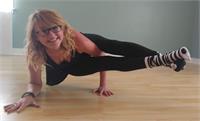 Stori has been practicing yoga for about 10 years. She came to her yoga practice from a background of gymnastics and figure skating. When injury prevented her from continuing to skate Stori found solace in the practices of yoga and pilates which allowed for similar fluid and artistic movements as skating while helping her body recover. In 2014 Stori took her home practice to Savannah Yoga Center and was immediately hooked on the healing nature of this community; she knew this was something special she wanted to be a part of sharing. She graduated from her 200hr YTT program at Savannah Yoga Center. Stori's classes strive to provide a playful release from the stresses of life, creating a space to let go and grow together.
Stori Springman instructs the following:
Dynamic Flow Yoga is a strong practice that builds heat, endurance, flexibility, strength, and mental focus using poses that encourage alignment, flexibility, balance, strength, and cardiovascular endurance. All levels welcome.




The postures in this class are mindfully sequenced with the breath to build heat and strength with a slower pace, followed by longer holds and active stretches to encourage release tension in the body making the class ideal for athletes and still accessible to all levels, even the very beginner.




A beautiful moving meditation synchronizing the body mind and breath into a seamless expression of yoga. Finishing off with a delicious deep relaxation. This class will help you to unwind, build confidence, flexibility and concentration in the basic yoga postures. Beginners to advanced can benefit from this class and are welcome to attend.




Friday, August 25th

6:30 pm - 8:30pm

Vegetarian Potluck to follow

A bit of Bowie, a lot of glitter and a playful yoga practice! Join Stori as she prepares to embark on a new journey by celebrating her love for the SYC community that gave her the courage to take flight. Costumes are encouraged but not required!

90 minutes of yoga taught by Stori followed by a community potluck. Please bring vegetarian friendly dishes. Donations for the CommUNITY partner, Coastal Heritage Society, will be accepted.