Lauren McDonald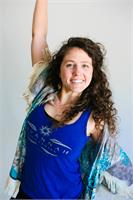 Lauren discovered Forrest Yoga in 2011 while living in California, and it truly changed her life! It encouraged her to look within, begin to heal, and discover her own sparkle! It also helped her to unwind her body after sitting at a computer all day while completing a degree in Landscape Architecture at the University of Georgia. Since moving back to Georgia, she had been struggling with the fact that there is not much Forrest Yoga accessible to the Southeast. This year she decided to take matters into her own hands and completed a teacher training with Ana Forrest to deepen her personal practice and to be able to share this transformational practice with others.
Her classes focus on deepening the breath, strengthening the core, and building power on a physical & mental level. She will guide you through a challenging, playful, safe sequence of poses to help you to move past emotional and physical barriers, to grow both on and off the mat. Through guided breath work and skillful hands on assists, Lauren's aim is to help her students feel deeply and connect with their own sparkling energy!
Lauren McDonald instructs the following:
This open level warm class (80 degrees) will focus on building strength and flexibility through deep breathing, abdominal exercises, long posture holds. Expect to sweat out toxins in a warm room! Forrest Yoga, created by Ana Forrest, focuses on healing and growth which allows students to deepen their relationship with their authentic selves. You will be guided to take a deeper look within, find your truth, and take charge of your own healing process. Through compassionate hands-on assists, visual cues, and modifications for each person, you can expect to deepen your practice on every level. You will leave with an enlivened spirit complete with awakened senses and open space in your body!




This class is suitable for all levels, experienced to someone who has never taken a yoga class before. Through gentle, relaxing movements and ending with deeply restoring poses you will discover how to free yourself of habits that are interfering with your optimum self. Students report reduced stress, improved breathing, greater range of motion, and enhanced vitality. Many find relief from chronic pain or limitations resulting from injuries or illness. With repetition, as gentle yoga improves how you move, you will also see how it affects how you move through life.