Tammie Folkers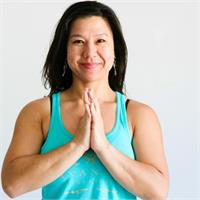 Tammie Folkers LOVES yoga and passionately believes in yoga's healing and transformative power. She realizes that the art and science of yoga is timeless. Tammie's first experience on a yoga mat was in 1998. In 2006, yoga became her focus and she hasn't looked back since! in 2012, Tammie formally studied at Savannah Yoga Center and obtained her 200 Hour teacher certification. The following summer she won a scholarship through Savannah Power Yoga and was given the opportunity to continue her studies. Tammie completed her second 200 Hour teacher training certification in the Baptiste-inspired Power Yoga method.
Tammie has her sight set on spreading her love and passion for yoga with all of the world! She's eager to see where this journey takes her and knows that with dedication and a wide open heart great things await!"
Tammie Folkers instructs the following:
Want to get in, sweat and get to work? This new class on our schedule is sure to please. We got ya covered with Express Flow – 50 minutes of all levels moderate vinyasa flow.

You can expect to get moving with sun salutations and other all-level poses. This class will keep you on your toes & flexible in body & mind. Get ready to sweat, burn calories and to be out the door in time to head off to work and saddle up desk jockey style!

All levels/mixed levels class. For optimal results, some yoga experience is recommended.




Dynamic Flow Yoga is a strong practice that builds heat, endurance, flexibility, strength, and mental focus using poses that encourage alignment, flexibility, balance, strength, and cardiovascular endurance. All levels welcome.




A beautiful moving meditation synchronizing the body mind and breath into a seamless expression of yoga. Finishing off with a delicious deep relaxation. This class will help you to unwind, build confidence, flexibility and concentration in the basic yoga postures and beyond. Breath work, meditation and deep relaxation are included. Beginners to advanced can benefit from this class and are welcome to attend.




The postures in this class are mindfully sequenced with the breath to build heat and strength with a slower pace, followed by longer holds and active stretches to encourage release tension in the body making the class ideal for athletes and still accessible to all levels, even the very beginner.