Ann Carroll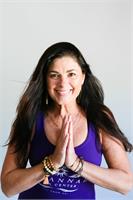 Ann Aikya Carroll worked as a Vice President in the banking industry for eighteen years until moving into a position as Director of Marketing and Business Development for an accounting firm. In early 2014 she gave up her corporate career to devote herself to an entrepreneurial spirit that allows her to work from home and devote more time to yoga and moms-to-be. Ann started practicing Integral Hatha Yoga® in the early 90's as a way to combat stress in her job and personal life. After realizing the astounding benefits relating to stress and the workplace, she chose to attend a four week live-in teacher training at the Satchidanada Ashram near Buckingham Virginia in 2000. Once that program was completed, she began to teach classes in a variety of settings, with the goal of sharing the gift of yoga.
In 2001 she attended another two week teacher training at the same facility specifically addressing bringing yoga into an office or boardroom setting. Subsequent trainings at The Kripalu Institute in Massachusetts and the Ashville Yoga Center prepared her to teach Pregnancy Yoga. She is honored to teach that modality because of the incredible benefits her students have experienced before and after delivery." She is a 500-Level Registered Yoga Teacher through Yoga Alliance, a member of the Integral Yoga® Teachers Association and founder and member of The Savannah Area Teachers of Yoga Association (SATYA). She organized Yoga Celebration Day in October, 2004 in Savannah Georgia and Yoga for Peace on September 6, 2006 and September 8, 2007 in Savannah Georgia. Ann has participated on the teaching staff of Savannah Yoga Center's 200 hour teacher training since the program's inception in 2007.
As an addition to her Pregnancy Yoga practice, Ann became certified as a childbirth educator in January 2007, a Labor Doula in December 2007 and a Hypnobirthing® Instructor in 2012. Since December 2006, she has been honored to attend and assist many couples as they have brought more that fifty babies into the world.
She teaches classes in group and private settings from the beaches of Tybee Island to Yoga Studios to boardrooms around Savannah.
Ann Carroll instructs the following:
Integral Hatha Yoga® is a gentle, meditative style of Yoga that incorporates the physical postures (asanas), deep relaxation, breath control (pranayama), cleansing processes (kriyas) and mental concentration to create a supple and relaxed body, increased vitality, radiant health and help in curing illnesses. The class is based on teachings by Sri Swami Satchidananda and is a gentle, meditative class available to everyone, regardless of age or physical abilities.




$135 for 6 classes, one class per week. Yoga is a system of techniques for balancing the body, mind and spirit through relaxation, postures, breathing and meditation.

Pregnancy is a transitional time when many physical and emotional changes take place. Prenatal yoga is about honoring these changes in ourselves, our body and our baby.

Postures and breathing practices are done to strengthen and relax the rapidly changing body during pregnancy. Increased flexibility, strengthening of the pelvis and uterine muscles and an increased ability to relax will be beneficial during the roller coaster experience of pregnancy and childbirth.

Prenatal yoga helps to prepare one for a more mindful approach to the challenges of pregnancy, labor and delivery, bringing focus and connection between mother and baby.
No previous yoga experience is necessary. Wear layers of loose, comfortable clothes. Bring socks, a yoga mat or beach towel and a bottle of water. A blanket and pillow will also be useful.

Private lessons are also available. There will be no childcare available, please make other arrangements for childcare during your yoga class.

Benefits of Pregnancy Yoga

Strengthens uterus and pelvic muscles
Improves circulation
Improves flexibility
Aids in digestion
Exercises the spine and increases overall comfort
Alleviates may of the discomforts of pregnancy - such as nausea, constipation, varicose veins, swelling, back pain and sciatica
Brings focus and connection to mother and baby
Increases strength and stamina
Increases ability to relax and let go of tension, anxiety and fear
Beneficial to help break bad habits such as bad diet, smoking, insomnia and the effects of everyday stress
Induces more restful sleep
Improves balance
Promotes a sense of wellness




Oct 21, 1:00-2:30pm

$25/ $35 day of

One must first release to make room for the ability to receive the new.

Explore gentle yoga paired with essential oils designed to increase energy and calm the mind, release old patterns and create space for new healthy & happy ones.

Incorporating essential oils, the very essence of plants to assist in emotional healing. We will explore several different oils as we move through a gentle yoga practice focusing on the breath and leading into deep relaxation. As we release anything that does not serve our higher purpose and make room for emotional balance and the space for the receiving all things new.




Yin yoga targets the connective tissues (joints, ligaments, bones) of the body, instead of the muscles that we focus on in other (yang) styles of yoga and exercise.

Yoga poses targeting the hips, pelvis and lower spine while relaxing the muscles are held for 3-6 minutes to achieve greater range of motion in joints and feel a renewed sense of energy.

Yin is also the perfect compliment to an active/vigorous lifestyle (i.e. running, crossfit, cycling, power yoga, etc)!

There are always modifications offered in each posture to make sure you feel comfortable, yet challenged.