Kelley Boyd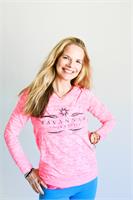 Kelley Boyd, a native of Savannah, is founder and director of Savannah Yoga Center. She has been practicing yoga for 16 years and teaching for 14 years.
Kelley's dedication to the Savannah community led her to create the SYC Community Partner Program. The program has donated over $12,000 to local charities since 2010, through special events and classes at SYC.

Currently Kelley is the director of programming and special events as well as the Yoga Teacher Training Programs at Savannah Yoga Center. She also teaches weekly public group yoga classes. A student at heart, Kelley frequently attends yoga workshops, trainings to learn and grow her knowledge of world and self.

Kelley holds a B.A. from Armstrong Atlantic State University in Art and continues to live a life saturated in creativity which manifests its self in the overall feel of Savannah Yoga Center and through the yoga retreats, classes and workshops she offers year round.

Having shown excellence in work, community and philanthropy, Kelley will be granted the Armstrong State University Notable Alumni Award in October 2016.
Instagram @kelleyjanelleboyd
Kelley Boyd instructs the following:
This class is suitable for all levels, experienced to someone who has never taken a yoga class before. Through gentle, relaxing movements you will discover how to free yourself of habits that are interfering with your optimum self. Students report reduced stress, improved breathing, greater range of motion, and enhanced vitality. Many find relief from chronic pain or limitations resulting from injuries or illness. With repetition, as gentle yoga improves how you move, you will also see how it affects how you move through life.




This class is for those looking to move, sweat and be physically challenged and spiritually uplifted. Lotus Flow Yoga is creative sequencing, conscious alignment, breath awareness, meditation and relaxation; we spiritualize our physical form and honor yoga's powerful and transformative lineage. The class ends with blissful relaxation, leaving you feeling happy, wild and free.




An evening of sumptuous restorative yoga by candle light led by Savannah Yoga Center owner, Kelley Boyd.

Let your holiday tension melt as we spend time grounding and landing from all of the holiday buzz.

The use of props like bolsters, blankets, sandbags, and eye pillows make for a truly relaxing and inviting experience for all. No yoga experience required.

Come one come all.

$15 earlybird / $20 Day of.

Fire, Earth & Wind Members free.

Reservations for events, including but not limited to special classes, trainings, and workshops are non-refundable or reimbursable. Purchases may be transferred to another individual with 24 hour advance written notice.




Integral Hatha Yoga® is a gentle, meditative style of Yoga that incorporates the physical postures (asanas), deep relaxation, breath control (pranayama), cleansing processes (kriyas) and mental concentration to create a supple and relaxed body, increased vitality, radiant health and help in curing illnesses. The class is based on teachings by Sri Swami Satchidananda and is a gentle, meditative class available to everyone, regardless of age or physical abilities.