Kelley Boyd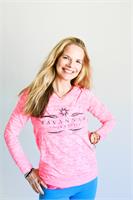 Kelley Boyd, a native of Savannah, is founder and director of Savannah Yoga Center. She has been practicing yoga for 16 years and teaching for 14 years.
Kelley's dedication to the Savannah community led her to create the SYC Community Partner Program. The program has donated over $12,000 to local charities since 2010, through special events and classes at SYC.

Currently Kelley is the director of programming and special events as well as the Yoga Teacher Training Programs at Savannah Yoga Center. She also teaches weekly public group yoga classes. A student at heart, Kelley frequently attends yoga workshops, trainings to learn and grow her knowledge of world and self.

Kelley holds a B.A. from Armstrong Atlantic State University in Art and continues to live a life saturated in creativity which manifests its self in the overall feel of Savannah Yoga Center and through the yoga retreats, classes and workshops she offers year round.

Having shown excellence in work, community and philanthropy, Kelley will be granted the Armstrong State University Notable Alumni Award in October 2016.
Instagram @kelleyjanelleboyd
Kelley Boyd instructs the following:
Lotus Flow™ is for those looking to move and sweat, an uplifting, innovative and soulful journey — a practice steeped in the timeless traditions of yoga, infused with music and spiced with divine inspiration.




This class is suitable for all levels, experienced to someone who has never taken a yoga class before. Through gentle, relaxing movements you will discover how to free yourself of habits that are interfering with your optimum self. Students report reduced stress, improved breathing, greater range of motion, and enhanced vitality. Many find relief from chronic pain or limitations resulting from injuries or illness. With repetition, as gentle yoga improves how you move, you will also see how it affects how you move through life.




Join us for an educational hour to learn about our YTT program. There will be time to have questions answered. Come with questions and an open heart, leave with more clarity about the direction your yoga practice is moving in and find out if our program is right for you.

*Military spouses may be eligible for full tuition assistance from MyCAA.
*Payment plan available.

Explore. Deepen. Grow. Share. Teach.

Want to deepen your own personal relationship with yoga and not teach? Do you want to learn how to share yoga? All are welcome in this program.

Upcoming Programs:
*Oct 2018. 200hr Program: 9 weekends over 8 months.
Oct 12,2018 - May 19, 2019.

October 12-14

November 16-18

December 13-16

January 11-13, 2019

February 1-3 & 22-24

March 22-24

April 12-14

May 17-19 - Graduation

Application deadline: October 1

*Feb 2019. 200hr Program: 8 weekends over 4 months. February 8, 2019 - May 19, 2019.

Feb 8-10 & Feb 22-24

Mar 8-10 & March 29-31

Apr 12-14 & Apr 26-28

May 3-5 & May 17-19 Graduation

Application deadline: Jan 5, 2019

*300hr Advanced Yoga Teacher Training is on going and at your own pace.