Kelley Boyd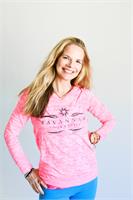 Kelley Boyd, a native of Savannah, is founder and director of Savannah Yoga Center. She has been practicing yoga for 16 years and teaching for 14 years.
Kelley's dedication to the Savannah community led her to create the SYC Community Partner Program. The program has donated over $12,000 to local charities since 2010, through special events and classes at SYC.

Currently Kelley is the director of programming and special events as well as the Yoga Teacher Training Programs at Savannah Yoga Center. She also teaches weekly public group yoga classes. A student at heart, Kelley frequently attends yoga workshops, trainings to learn and grow her knowledge of world and self.

Kelley holds a B.A. from Armstrong Atlantic State University in Art and continues to live a life saturated in creativity which manifests its self in the overall feel of Savannah Yoga Center and through the yoga retreats, classes and workshops she offers year round.

Having shown excellence in work, community and philanthropy, Kelley will be granted the Armstrong State University Notable Alumni Award in October 2016.
Instagram @kelleyjanelleboyd
Kelley Boyd instructs the following:
This class is suitable for all levels, experienced to someone who has never taken a yoga class before. Through gentle, relaxing movements you will discover how to free yourself of habits that are interfering with your optimum self. Students report reduced stress, improved breathing, greater range of motion, and enhanced vitality. Many find relief from chronic pain or limitations resulting from injuries or illness. With repetition, as gentle yoga improves how you move, you will also see how it affects how you move through life.




This class is for those looking to move, sweat and be physically challenged and spiritually uplifted. Lotus Flow Yoga is creative sequencing, conscious alignment, breath awareness, meditation and relaxation; we spiritualize our physical form and honor yoga's powerful and transformative lineage. The class ends with blissful relaxation, leaving you feeling happy, wild and free.




Goddesses of Yoga: Yoga, Essential Oils & Coloring Meditation Workshop with Kelley Boyd
May 13, 2017
2:00-4:15pm
$35 Early Bird/$45 Day Of

Celebrate and learn about the goddesses of yoga through movement, essential oils and coloring meditation. This 60 minute all levels gentle yoga class will focus on hips, pelvis and back with essential oils of the Goddesses sprinkled in along the way. Specifically, we will explore emotionally uplifting essential oils that balance female hormones, reduce the feelings of stress and promote over all female well-being.

Following the yoga practice we will settle into a guided coloring meditation where Kelley will share stories of Lakshmi, Saraswati, Kali and Durga (to name a few) and the sensual, fierce, creative and nurturing characteristics of the Goddesses of yoga. Through this workshop learn to invoke the characteristics of these powerful goddesses into your own life daily.

What to Bring:

Coloring Pencils, markers, crayons, color pens (glitter pens are amazing here!)
Journal
Curiosity




Join us for a free 30 minute yoga session, co-taught by Kelley Boyd and Ann Carroll, followed by an educational hour to learn about our YTT program. There will be time to have questions answered. Come with questions and an open heart, leave with more clarity about the direction your yoga practice is moving in and find out if our program is right for you.

Do you want to learn how to share yoga? Want to deepen your own personal relationship with yoga and not teach?
All are welcome in this program.

Explore. Deepen. Grow. Share. Teach.

Our 200hr Foundational Yoga Teacher Training Program is offered in two formats:

24 Day Intensive:
July 9 - 30, 2017
Application deadline: June 15, 2017

8 Month Program:
Oct 13, 2017 - May 13, 2018. 9 weekends over 8 months.
Application deadline: October 7

*Military spouses may be eligible for full tuition assistance from MyCAA.




A beautiful moving meditation synchronizing the body mind and breath into a seamless expression of yoga. Finishing off with a delicious deep relaxation. This class will help you to unwind, build confidence, flexibility and concentration in the basic yoga postures. Beginners to advanced can benefit from this class and are welcome to attend.




The postures in this class are mindfully sequenced with the breath to build heat and strength with a slower pace, followed by longer holds and active stretches to encourage release tension in the body making the class ideal for athletes and still accessible to all levels, even the very beginner.